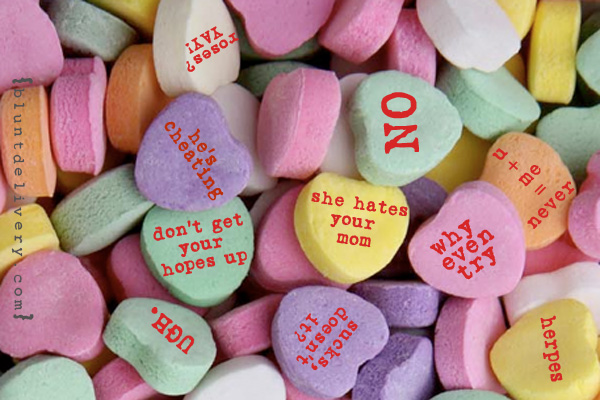 Lately, I've noticed a lot of visitors, dodging the landmines and trekking over mountainous terrains to stop over at my humble, but well decorated corner of the Internets and rest their weary souls. So before I blindside you with what I have to say, which by all accounts will probably alter the course of your life and so we better hurry up, I would like to give all the newbies a big, Blunt welcome with open arms.
But I hope that didn't just make you think of the popular eighties love ballad by Journey.
Because I sort of dislike that band.  But not as much as I dislike hate Chicago.
But I do like that song 'Don't Stop Believing.'
But not just cus it's on the popular Fox musical Glee.
Cus I don't like Glee. But I do like that Jane Lynch.
And I like you. So why don't you just stop worrying about what I do and don't like, mmmk?
Actually, I can't say I don't like Glee. I'm just assuming I don't. Never mind the fact that I just listened to the YouTube Glee Mix about a hundred times.
Speaking of Valentine's Day, did you honestly think  just because I'm in a relationship that I would start liking this dreadful day?? I'll bet you one aluminum wrapped red rose that you did. Ugh. Well, I was part of a video series that the College Crush and College Candy did called: Kick Ass Valentine's Day… no date needed. You could imagine my enthusiasm at the chance to make fun of a holiday that is supposed to celebrate love, but really just exists in commemoration of the execution of Patron Saint Valentine.
I have included the original version, without the intro they added, in case you hate Valentine's Day too (which I expect you do) and wanted to watch it. [DISCLAIMER: Guys, this video might make fun of you a lot. This is not an apology, just a disclaimer]
So, I want to know…. how will you be celebrating the horrendous holiday that is creeping in on us like that weird kid in 8th grade biology?
Cus I won't ever stop believin,'
Blunt