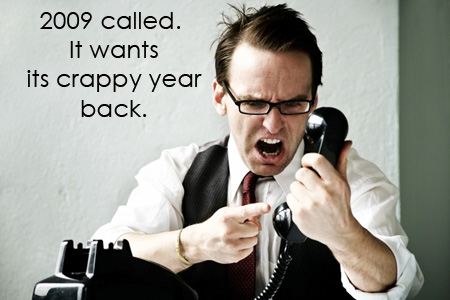 You know how when you meet someone for the first time and there's just that instant connection? As they explained on Sleepless in Seattle: magic. The stars align, and in that moment it's as if the whole universe existed just to bring the two of you together?
Well, that is not what happened when I was first introduced to 2009.
The year began with me laying in the darkness of my room, unshowered [for what might have been days], surrounded by leftover holiday candy wrappers, recently unemployed, and staring at the ceiling while listening to news anchors give unbiased coverage of the upcoming election make virtual love to Obama.
I thought about making resolutions, but then remembered I had just published my first story in Chicken Soup for the Soulwhich talked about precisely how much I hated resolutions.
As the year went on, I started devising a list of things that I'd never forgive 2009 for:
stealing my best friend away and

shipping him to San Diego

the extra 15 pounds I put on by working in a bank office for 2 years but always justified with the fact that I made lots of money

losing said bank job and no longer having an reason as to why I was toting around an extra 15 pounds

making Illinois not only

one of the most corrupt places to live

, but one of the hardest places to get a job

causing various family members to get really sick and/or lose their minds

that spot on my carpet I couldn't get out, even with the stuff that Billy Mays told me to buy

Billy Mays dying

my air conditioning bill

all of those people who rejected my story submissions thus deepening my depression and making my goal of becoming a full time writer seem impossible
The list goes on, but the point is: it was just one of those years. Unfortunately, I felt like I'd been in "one of those years" for nearly a decade. It didn't help that everyone around me was talking about CHANGE, yet I knew nothing was going to be different for me. Every passing year that I was working some random job instead of doing what I was passionate about, I found it harder to put on a happy face. Then, depression's finest looking wing man, guilt, strolled in wearing a nicely coordinated suit. I started to feel guilty for being depressed. Cus, I mean, hey, I'm still breathing right?
Wait, hold on a second.
Oh, okay. Yes. The answer is yes, I'm still breathing. And on top of being able to breathe, the second installment of the Twilight Saga was released. There were things everywhere to be thankful for. Yet, I still struggled. I didn't even put up a CHRISTMAS TREE, which nearly resulted in excommunication from my own family. If we were Catholic, that is.
But then. Irony struck my life again, when a routine email inquiry turned into a meeting on a snowy morning during Christmas week [that I almost blew off cus I love sleep too much and my car sucks in the snow and I had procrastinated all my shopping but mainly I just like sleep too much]. That meeting turned into a job as Senior Editor for a new magazine, in which I will be able to be as creative as I want. Which by the way, never happens in real life jobs. And, she found me in a random Google search in the middle of the night.

And now if you'll lay back on the counseling couch, I'd like to say that dreams are a tricky thing. They can be the only driving force that keeps you going at times, yet the constant pursuit of dreams -accompanied by disappointment- can also destroy you. But here's the good part: when you finally take just one small step towards fulfilling that dream, which you eventually will, it makes all of the rejection letters, and sleepless nights, and financial stress, and waiting tables, and writing about things you hate seem just… not important.
So hey, do me a solid and hang on to those dreams in 2010.
You have nothing to lose but your sanity.
My dad stole my Polaroid camera. He took this as I was walking through his backyard. He's always been a big fan of my dreams.