I realize it's possible that a few of you might have been slightly distracted by the crumbling economy and possible impending doom of our country's unresolvable debt crisis, therefore you might not have been tuned into the Discovery channel like I was last weekend. And that means, you missed the recent archaeological discovery of a lifetime.
Gandhi was so cool. Not only was he the change he wanted to be in the world, he was waaay ahead of his time. Yes, he might have been barefoot, but he knew things about the future. And it was no surprise to me when his list of  Top 4 Tips on How To Have a Crappy Blog were excavated. Obviously, when he wasn't selling his quotes to card companies, he was busy documenting his wisdom.
My heart is too big and full of love for you just to let you sit there all non-educated. I inherited my mom's sense of compassion. And maybe even a little of Gandhi's too?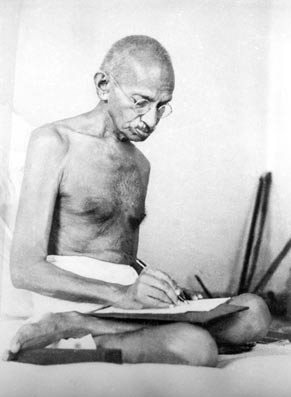 Here is what they were able to interpret from the hieroglyphics. Don't ask me why Gandhi was writing in hieroglyphics. Some things aren't meant to be understood in this lifetime. Lucky for you I took Intro to Hieroglyphics in college. Right before I dropped out.
1. "Felesnale eef  linxeicve bi w.aiven.a wefiengt!  slfiewh!"
Translation: Why in the name of my visible sternum do you make it so impossible to leave comments? Do you hate me? Why do you hate me when I am just trying to act interested in what your dog did yesterday? Cus it seems by the obstacle course you have set up that you're trying to scare me away. Ouch! Is that an electric fence? (there's the forward thinking again) Ah! I think I just gashed my leg on some rusty barbed wire!
Gandhi's advice: Captcha sucks. Especially if it shows up after I have already submitted a comment. Half of the time, I have already left the page before it pops up, in which case my comment is lost and I'm too busy making up quotes to resubmit. The other half, I can't read the captcha correctly, not because I'm a robot, but because it's stupid. Also, if you have the captcha Nazis in place, why do you need to approve comments? You don't. Comment approval cramps my style and the natural flow of conversation. It makes conversation and replying difficult. P.S. WordPress automatically catches spam without captcha, so maybe you should switch over. 
Hey, his words not mine.
2. "wao;ifwa #() frefwas fwal;ifaw;oinee fneifms e! wefiens!"
Translation: See these dreadful round glasses I have to wear? It's because your black backgrounds and tiny fonts make my eyes hurt. After I read your posts, I have to close my eyes and meditate to alleviate the stress and ward off the dizzy spells. Which is okay, because it gives me so much more time to think of quotable quotes, but dangit.
Gandhi's advice: If you must have a black background because you feature art, or cartoons (ahem, Bearman aka Mr. Hotlink) then by all means. But if you can help it, you should have a light background with dark text that is easier on the eyes – many people have issues with dark backgrounds and light text. Oh, and have text that is LARGE enough for me to see without my spectacle! Reading your blog shouldn't be a struggle!
3. "stop being an idiot"
Translation: None needed.
Gandhi's Advice: Posting every day will not make you famous. It will only annoy me because you have nothing quality to say. Although all of your words might not end up on a greeting card like mine, you should still put some thought into what you're saying. My time is precious. I am busy making peace and I don't have time to hear about what your kid left on his dinner plate last night. Plus, I cannot possibly leave a comment on all of those posts. Not that I would anyway, because your barbed wire fence got in the way.
4. "awoefne lfleell! fwlifweoi, flwiefw, wflieefjisisi!"
Translation: The Blogger commenting structure sucks. It's very discouraging if you don't have Blogger. I have been to some Blogger blogs where the ONLY option to leave a comment is to enter my Blogger ID or Google account. How very discriminatory of that blog. I know Google is taking over the world, but you do realize that not everyone has a Google account right? And even though I do, it doesn't link back to my blog.
Gandhi's Advice: If you choose to use the Blogger comment system, you must enable ALL options for leaving comments. This includes the name/url option, for those of us who have self hosted sites. Otherwise, there is no way for us to comment. And I don't. And then you get all "where's my comments?" and I tell you to shut it. My best advice in this scenario would be to install Disquis.
That being said, if you're out there and you have a Blogger blog with a black background and captcha with barely any commenting options, you have the crappiest blog ever! If you have a blog with only a few of these things wrong, your blog is only a little crappy and there is still hope for you.
Peace be with you,
Gandhi
Wondering where I went? I have returned to blogging over at my whole foods blog Celery and the City, where we live so clean it's like your insides took a bath.