[ Blunt Bites break away from my normal, detailed posts. They are short snapshots of a significant part of my life. Sometimes, they're serious. Sometimes, they're funny. But they're always gonna be delicious. Yum. ]     
Riding the Underground to I don't know where, I was writing in my journal and thinking of how well I fit into the rainy landscape of London. I've always been a rainy day person. I suppose it's the writer in me – or just the manic depressive shining through, something like that.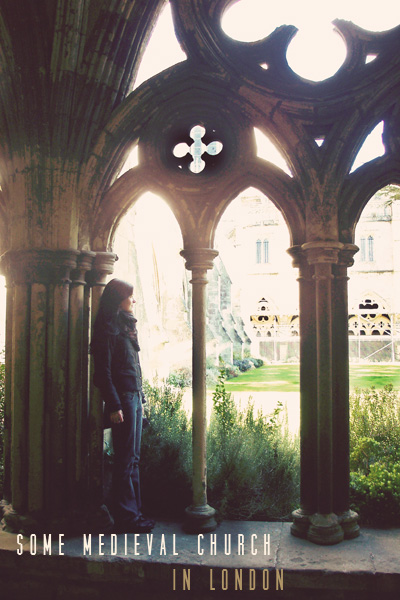 I was thinking about you and how much I didn't love you, but couldn't tell you that. I'm sure I jotted down a brilliant free verse poem about it but thank God those journals would be stolen in three months. A lot of things I didn't want to hang on to in there, but I never would have thrown them away. Otherwise, what would people have to sift through when I died? Unread books, gifts not given, unfinished projects, notes that wouldn't make sense to anyone but were going to somehow morph themselves into a bestselling memoir down the road?
Well, I guess that's all they'll have now. A stack of random notes and unfinished things. My life is perpetually unfinished.
I'll always remember the day I started loving you. The night you took me to Chicago and brought a blanket and contact case in the car so I could sleep on the way home since I had to work in the morning. You were very thoughtful. You paid attention. You were, in fact, everything I had never found in someone.
You often asked me when it was that I fell out of love with you. I never understood that question because it seemed like some sort of self-inflicted torture; but then again, don't we all torture ourselves? I always told you that we either love someone or we don't and it's a compilation of many things. It's a process – a slow dulling of feelings and building up of resentment over time.
Or maybe that's just what I was brainwashed to believe by old married couples. Because now that I think back on it, there definitely was a day. And I have an answer for you now. But do you really want to know? Nah, I figured. 'Cus in the end, it doesn't matter. Not now and not then.
But, just so you know, there was a day. An exact moment in time when I looked at you and you weren't the person who drove me to Chicago that night. You weren't even close.
Everything in life always comes down to that one day.
I have returned to blogging over at Celery and the City where I write about clean eating, healthy living and post allergy and gluten free recipes!