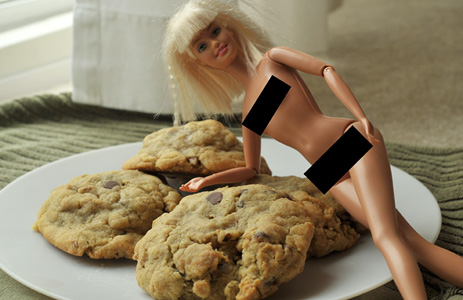 [I'm laying on the floor photographing the above picture, when my dad walks in the room]
Dad:  [said like he is trying to piece together the mystery of life] Barbie. Naked. Laying on a pile of mom's chocolate chip cookies. [laughs hysterically and then pauses for two minutes.] I don't get it.
Well, sonofagun.  Maybe I don't either.
But my mom makes some ridiculously large and delicious chocolate chip cookies, which are clearly bigger than a pretend, unrealistically proportioned person.  And she handed me 5 batches as she walked in, also carrying a blueberry pie and 10 bags of groceries.  Immediately following this, she grabbed a paper towel and some Ajax and got to work on my shower, again proving to me why remaining in the Midwest was the sensible choice.
So while the parents were over, I decided I'd get caught up on some laundry today. .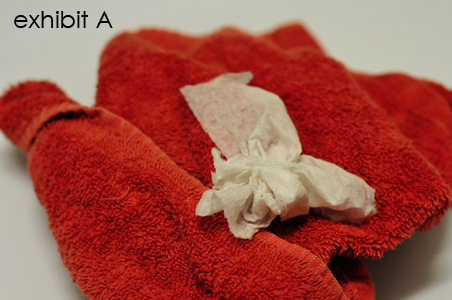 Huh.  Well what's that crap? A crumpled dryer sheet? No, pffft, I don't splurge on dryer sheets.  And plus, these came out of the washer.  A napkin, perhaps? Naw… Why would I have napkins – who's coming over the Queen?  Bob Hope?  OH…. A Kleenex. It's totally a Kleenex.  Must have left it in a pocket or something.  Blessed Respite!
However, that was a merely child's play compared to what I would soon discover.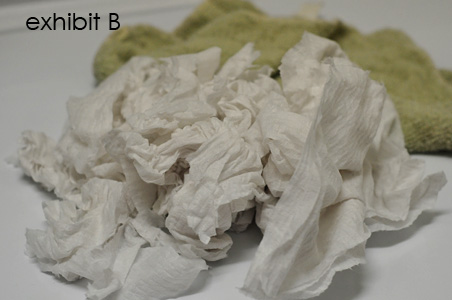 Wait… Wha? Okay, I'm no scientist, in fact, I didn't even finish the 6 various colleges and trade schools that I started – but that IS WAY more stuff than could be produced by a Kleenex.  And now that I think about it, I'm also too cheap to buy Kleenex. And you know what Judgy McThinkYou'reBetterThanMe?  Once you have your own place, you will be too.  AND you'll remember to turn off the lights when you leave the room, dangit.  So you just relax.
After I'd noticed that every single garment was coated in tiny pieces of white stuff, I knew there was something terribly awry.  There was so much of it. Finally, as I reached into the washer and grabbed the last pieces of clothing, I discovered Exhibit C: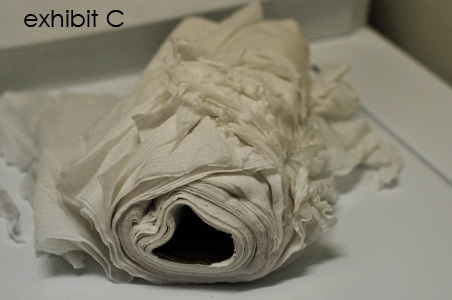 You've. Got. To. Be. Kidding.
How the? What the?  Ugh.
*No Barbies were harmed or humiliated during this documentary.  This is because, contrary to popular belief, they enjoy not being dressed in ridiculous outfits.