In my early twenties, I decided to love the word Ambiguity.
Perhaps because so much of my life was, and still is lived there, in the unknowing. I became such good friends with ambiguity that I finally decided to just love it, you know? Like that annoying little genius kid that keeps asking a billion questions. Eventually, you just give in, grab a Lunchable and explain why the earth doesn't fall through space and how fish breathe underwater and why Capri Suns are so damn hard to get the straw through without ruining your new plaid shirt.
As a historical over analyzer, my mind constantly wanders to worlds of endless possibility. Maybe even galaxies. There is something exhilarating and terrifying about the ambiguity of life and the people in it. Choices, motives, actions, words. Our own thoughts, the only certainty. And even those blindside us.
If we could know the outcome, if we could see the end result, would we really want to? Who knows where we would end up if we only took the path of least resistance. Least hurt. Never challenging ourselves and only heading toward whatever resulted in pure happiness. 'Cus isn't that the big goal, happiness?
But as you might remember, we're only really entitled to the pursuit.
My life has been full of ambiguous relationships. This, one of many.
It was seven years ago. And the snow fell early that year.
The big, pretty kind that hides leftover leaves and makes sparkly piles on branches of trees; and I knew I couldn't like you. But it's not my fault I love the snow. The kind that shields your window from all of the things you don't want to see but know that you need to. Even still, it was just one of those things. I was a mess. And you, well, we won't get into that. You were just a guy in a dorm in London. A friend of a friend who became my friend and we kissed on a Tuesday night.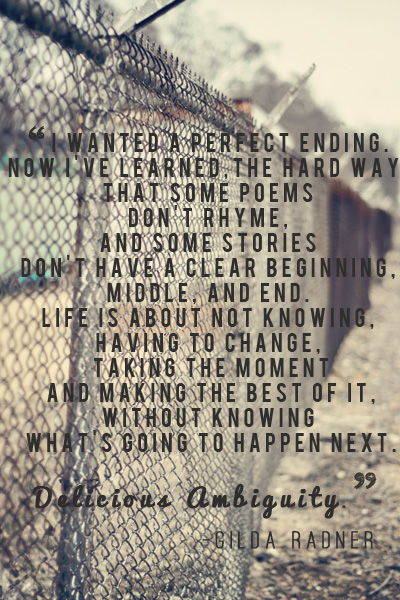 You had a funny accent that was more Chicago than East Coast and you hated me for saying that. Maybe you reminded me of home. Or what I wanted home to be. Endless debates over ideal pizza crust thickness, which I believe I won by sheer gesture volume. That, and my opinion counts twice given my Italian heritage. You were photography and adventure and all of the things I never knew I loved yet. You introduced me to my first peach Bellini.
Back in those days, I carried a journal. You were in it. Probably more than you should have been for a friend of a friend.
We went on dates – friend dates – and talked about a lot of what-ifs. You loved my outlook on life; described me as a slightly jaded, hopeless optimist in denial. Or something like that. And I remember thinking, either you were a total liar or you actually understood me. Inherently, you looked out for me as if you somehow knew I didn't care what happened to me in those days. You made me laugh, like, really laugh – in a way I hadn't and wouldn't for a long time. Had I foreseen the next two years, I would have laughed more with you, until we had to go back to our lives.
And we did.
And that is just where some stories end. Undone. Chalked up to delicious ambiguity of life.
But somewhere, in that murky indefiniteness, there lies a unique security. Because if we were honest with ourselves… we like not knowing.
I have returned to blogging over at Celery and the City where I write about clean eating, healthy living and post allergy and gluten free recipes!