[I apologize for all who tried to comment on the guest blog by Jen on Monday. Apparently, there were some issues with Explorer not allowing comments. Thank you for your emails and all the great advice! I really appreciate you guys. But more importantly, why are you still using Explorer?]
Yesterday, the moon was in the second house. The sun was shining. It was quasi-warm in the Midwest for the first time since Christmas. The alignment of all these rare events led to a brilliant idea on my part. And by brilliant, I mean an idea that led to devastating embarrassment.
I decided, for the first time in five years, to clean out my beautiful baby Saturn. I have oft neglected such duties on account that my baby is 12 years old, has a hole in the hood, leaks on me every time it rains and is probably about to breathe it's last breath. And I figure that would just be quality time wasted on cleaning, when I could be Twittering or Facespacing, or thinking of more reasons to hate Neil Diamond.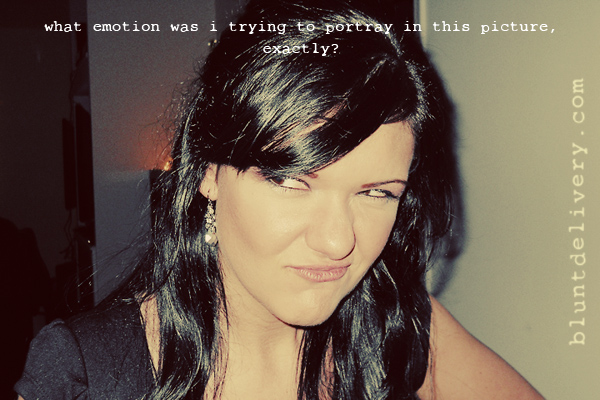 Let me first set the scene for you. I had just gotten out of the shower and I let my hair air dry. Let me just tell you that you've never seen anything like an air-dried pile of half-curly, unruly Italian hair. That being said, I also had applied some white zit cream to my chin and left cheek due to an overly stressful week. I put on my "house glasses" and all of you who wear glasses know what I mean by that. You have the normal pair, which can be seen in public. Then, you have the "house" pair, which used to be a normal pair until someone sat on them or the prescription became outdated and now they are solely used for laying in bed and watching TV. Also, since it was warm, I was wearing my daisy duke plaid PJ shorts and a wife beater. And Ugg boots.
I went in the garage and started cleaning. The world was at peace and that's where this story should end.
But it doesn't, cus I'm full of bright ideas, remember?
I thought to myself, "It's sunny out and everyone is at work. I'm just gonna back out of the garage for a bit so I can see things better, but I'll still be inside the car so no one will see me."
Well, I suppose that would have generally been the case. But NOT YESTERDAY. Around the corner, I see a man walking by out of the corner of my eye. I had the driver side door open, with one leg out, like some sort of car straddling white trash person.
I ignored him at first, because, I'm sort of the hermit of the neighborhood and no one talks to me.
Except, of course, new neighbors who move next door and want to introduce themselves.
Are you starting to connect the dots?
He walks straight over. Probably about thirty. Gorgeous, wearing a suit. As he approached, I instantly panicked. There is NO WAY I can escape this. He shouts, "I'm new here, trying to get around and meet all the neighbors." I stared down at the floormats and kept cleaning. I said, "Oh, nice to meet you."
For goodness sakes, isn't that enough recognition for any ordinary person? This is America, after all.

Then, only because it's my life, he kept walking closer. He stands right next to me and I quickly adjusted the shorts, considering the very compromising position I was in. At that moment, I was so preoccupied with not flashing him that I did not recollect the zit cream on my face until he blatantly glared at my chin. As he stuck out his hand, he said, "I'm Todd. I work for the local news. Nice to meet you."
Oh, the news. Of coursssssssse you do.
I get a lot of emails asking if people can purchase photos from my blog. So….I introduce to you: Free Photo Fridays.

[Free Photo Fridays are a little break from my regular blog posts. I love photography. And I love sharing it with other people. So, on Fridays, I post a high resolution download of one of my favorite pictures for you to use. Hang it on your wall. Use it for your desktop. Frame it and give it to your mom. Do whatever you want. Also, if you have a picture you'd like to add, send it to me at info@bluntdelivery.com and I'll feature it with a link back to your site. Share the love people.]
Since it is finally getting warm out, I will start with this picture of melting Midwestern ice. Click here to download. [3216 x 2136 px]