You know your hair is too long when you have to start using conditioner meant for a horse.  Gees, people.  I'm just saying.  But on a side note, it works rather nicely.  So I've heard.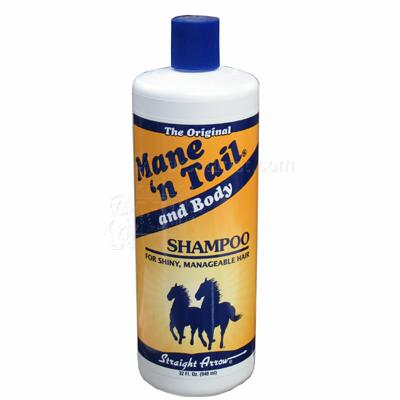 People always ask me, actually they harshly criticize and often yell at me, for the fact that I've never moved out of this God-forsaken craphole of a town. For those of you who don't know, I live in a suburb outside of Chicago, where nearly everyone is a loser with zero motivation or aspirations in life.  So when I put it that way, I guess I can see their point.
Friend:  But you could be a big time writer in New York and travel the world.
Me: I've already traveled everywhere I want to go in the world.  And New York has too many rats.  And snobs.  And pricey food that comes on a giant platter but is the size of what I can only consider, a midget snack of sorts.

Friend:  But you could move to L.A. and write for tv shows and movies.
Me: I'm brunette, no one would take me seriously in L.A.  Besides, I can't deal with the fakeness.  I would call everyone out and then they would hate me.  And then I'd run home to my lonely, roach-infested apartment, where I'd cry big, fat elephant tears and eat myself ugly. 
Friend: But you could move to the downtown and work for the Tribune.
Me:  I hate the news.  It's depressing.  Plus, I probably wouldn't get by with throwing in sarcastic comments when I was writing about the Korean missile crisis.  That job would blow chunks.  Give me a break, I'd never move to any of those places.  Seattle.  Now there's a place I wouldn't mind moving.
Friend:  You know that Grey's Anatomy isn't actually filmed in Seattle right?  So you wouldn't be meeting McDreamy, or McSteamy, or any of the Mc's?
So could all these people be partially right? Perhaps.  Is it true I want to continue my writing career on a larger scale? Mmm hmm.  Is it possible for me to accomplish all my dreams living here?  Heal no.  So what on earth could possibly keep me sandwiched here in the middle of the country, suffocating for air, slowly dying from lack of culture and white-trashy influences, you ask? 
Is it the ice-cold winters, which seem to get longer with every passing year, that make me contemplate roasting my own dog [or I guess my neighbor's cus I don't have one] over a rotisserie just so that I won't have to leave my house for food?  Not exactly.  It's much more complex than that.  But when isn't it?
The other day, I was bronzing myself on the back porch, as the landscapers were mowing my yard.  I arose from my position to make sure I was decent as they were mowing right in front of me.  The last thing I need is a sweaty, landscaper-stalker.  But on a serious note, could they possibly point that grass blower thingy in another direction?   Then as I was gazing at all my patches of dead grass, a thunderbolt of realization occurred to me.  Um, why can I see those?  Where is the tangled pile of hose that has been laying in my backyard and covering the dead grass since I moved in?  Wait a minute. THESE PERVERTS STOLE MY HOSE! @#$!  And now they're blowing grass at me.  What the?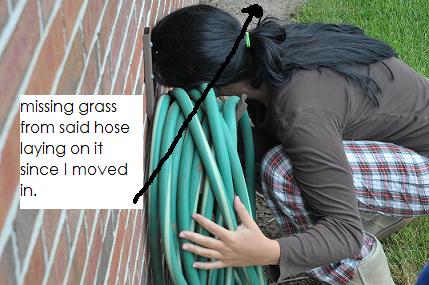 As it turns out, my father had slithered outside at some point and drilled a bracket into the side of my house and wrapped the hose nicely around it.  BONUS: he was smart enough not to install one of those plastic roller pieces of crap that break after two seconds, which would result in a lifetime of frustration and ultimately, the death of more grass.  EXTRA BONUS:  He planted grass seed.
Folks, I'm sorry, but with quality service like this, the Midwest has a hold on me.