I had like 7 dreams last night.
First, I was shot in the stomach and pulled the bullet out myself, while driving to the hospital. Then, I was being chased through the jungle by kidnappers. Then, I was eating cupcakes in my mom's kitchen as I watched my dad get assaulted in the backyard.
Now either I really need to stop eating hummus before bed, or I need to quit falling asleep to 24 on Netflix.
You know how when you have so much going on in your head you feel overwhelmed even trying to put together a cohesive thought? Well, I can't even choose which thought I'd like to try to put together at this point. That's bad.
So, instead, I'm going give you a glimpse into my past week, which consisted of consecutive failures on my part. And on the universe's part.
I'm gonna kick this one off with my mom's birthday dinner, when my dad, who couldn't wait for the waitress to bring him a spoon, ate his ice cream with a butter knife. Like a 5 year-old. Except not even that, cus they aren't allowed to play with knives.

The next day, I was attempting to sit down on the couch with some food, watch TV, and relax for like two minutes. As I went to grab the blanket on the couch, it knocked over this glass onto my carpet, which was full of cranberry juice. Not only cranberry juice though, ground flax seeds because they are good for the ticker and you know how I almost had that heart condition. Ever try to get cranberry juice out of cream carpet? How about when it's mixed with ground seeds? Oh, but what you can't see is the wine glass that was still there left from the night before, which landed on the other side of the coffee table and splashed red wine all over the side of my white couch.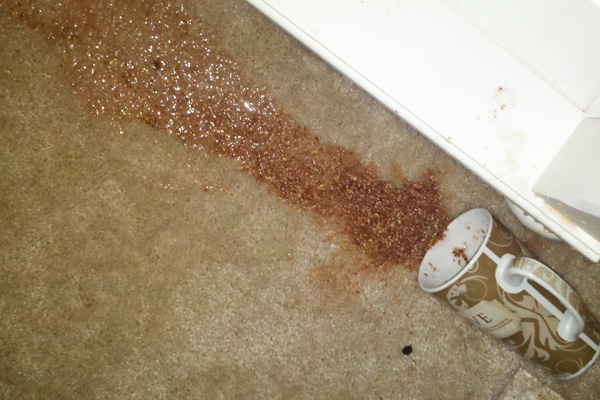 My friend Jo (eye patch girl) and I have decided start walking on a quasi-regular basis. We started last week. I also started discovering that McDonalds cheeseburgers are not only delicious when drunk, but also when you're about to go for a walk.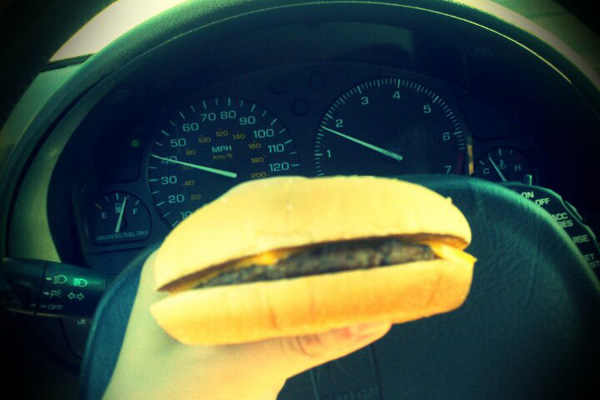 When in the middle of the worst storm you ever remember having, while staring at a funnel cloud, it's a bad time to realize you live in an upper unit condo, with absolutely no tornado plan whatsoever. Or flashlight. Or radio.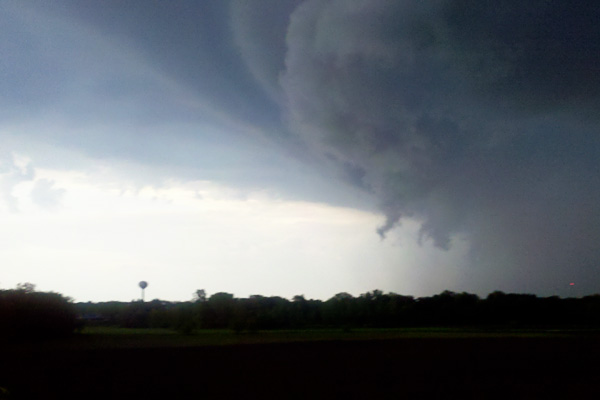 While setting up for your grandparent's garage sale, this is high on the list of things you don't want to discover.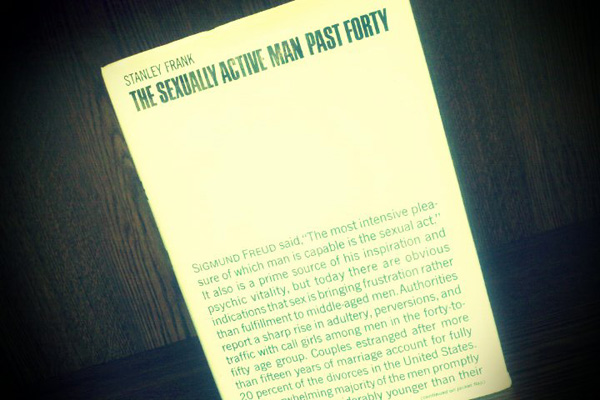 Stumbling upon an entire AISLE of varieties of boxed wine. It was like a hidden paradise.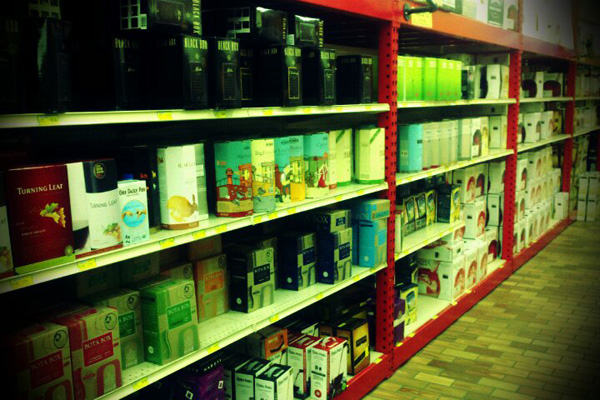 My nightstand the next morning. That is crust from a sandwich that I apparently demanded at 4 a.m. because I couldn't get my hands on any McDonalds cheeseburgers.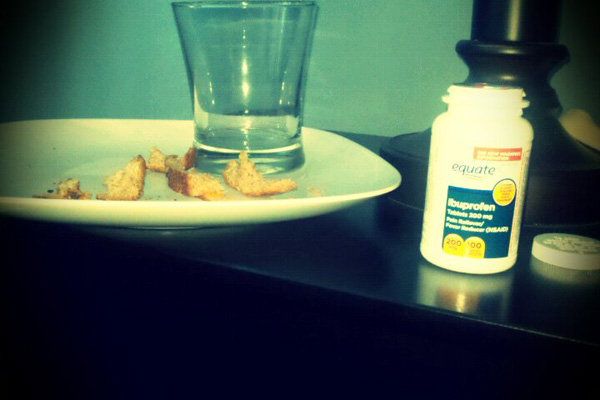 Finally being in the mood to paint and then when you get all the colors home they look NOTHING like they did in the store, under the stupid florescent lighting. Yet another reason why it should be banned from the world. So, then you take it back 70 times to have it remixed and then you just decide to watch 24 on Netflix cus it's too dark to paint.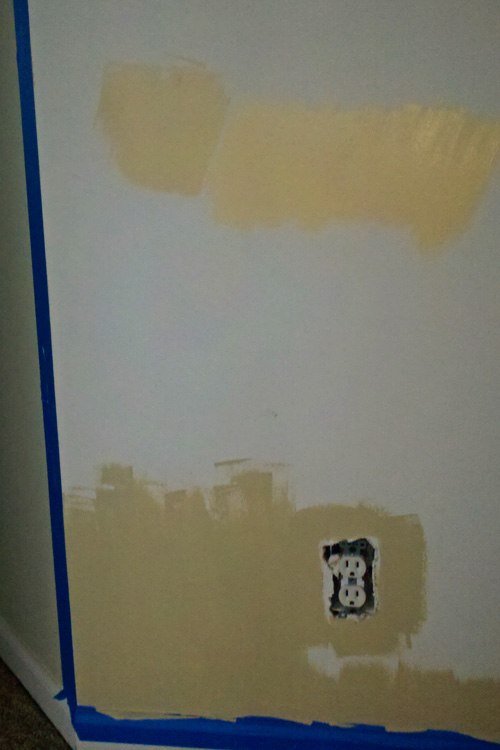 Last week, when we were supposed to go walking, the apartment building next to Jo's got struck by lightening and burned down. She also manages the apartments and so she was obviously preoccupied for a couple days. Then, Tuesday night, her car broke down in my driveway as we were about to drive to the park.
This girl will stop at nothing to get out of exercise.
It broke down in an "inappropriate parking spot" so I had to leave legitimate warnings for the neighbors.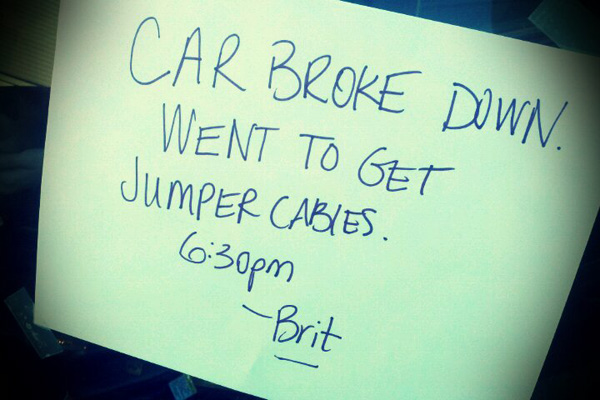 We actually DID end up walking that night. But it doesn't matter, cus the next day Jo needed to have a late night talk and I happened to have a 2-for-1 Steak N Shake shake coupon. It's kind of our thing. We can't have serious any kind of talks without them. Try the Key Lime if it's the last thing you do. It's got graham cracker crumblies on top!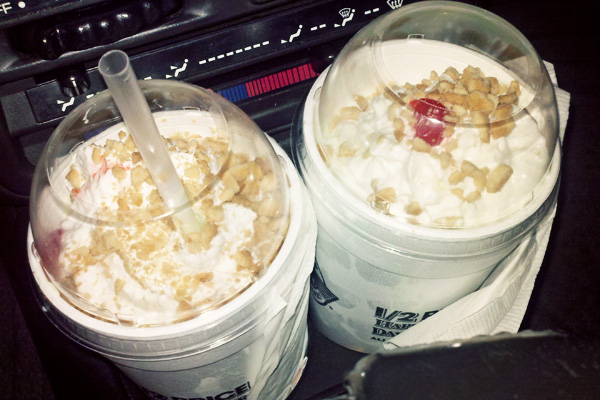 Sigh.
Wondering where I went? I have returned to blogging over at my whole foods blog Celery and the City, where we live so clean it's like your insides took a bath.