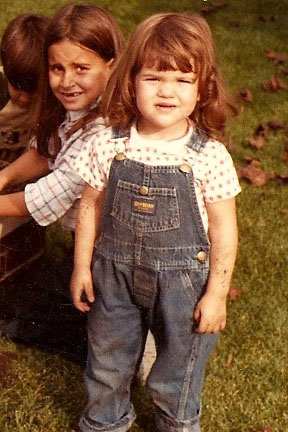 What exactly is it with the Recycle Bin on my desktop?  And why is it that every time I go to empty it, I accidentally delete it?  And why is it that when I go to search for it in my computer, it says 'no results found?'   And why is my computer trying so hard to protect the location of my recycle bin?  Makes me think there's something shady going on behind my back. ..All of this recycle bin talk makes me think of daddy issues. I'm not exactly sure  how my brain draws correlations like this, but lucky for you it does… or this entire blog would be about the quest to locate my recycle bin.  And even I couldn't be mildly entertained by that.
I  think it's a fair assumption to say that all signs point to the fact I was probably supposed to be a boy. In fact, I don't know how I ever ended up wearing makeup or having a non-butch haircut, but miracles do happen.  It all started when my parents moved to the middle of nowhere and the only kid my age was a boy named Christian.  For more on that experience, go here.  So I grew up doing boyish things, which I think had alot to do with the fact that my dad tried to make me into a boy by subtly sabotaging my girlishness and preying upon my weaknesses.
Dad:  Hey, wanna help me stack hay in the barn…. it'll be real fun?
Me: Um.  Not really…(Just about anything with my dad is fun when I was 7… but even then I knew that would totally blow chunks)
Dad: Afterward we'll go get pizza and ice cream.
Me:  Hand over the pitchfork.
[The next day…]
Dad:  Hey, can you give mom and I a hand in transporting all these stones to the flower garden?
Me:  Well…actually, I had big plans to ride my bike in about five minutes.
Dad:  You can get some office supplies next time we go to the store.
Me:  Hmm…that's tempting, but I don't know…
Dad:  AND I'll play school with you later.  You can quiz me with spelling words on the chalkboard.
Me:  Sigh.  You know that's an offer I can't refuse.  Where's the gloves?
Some might say this was a mild form of child abuse. But I knew deep down I was just yet another girl with daddy issues, living the life of a victim.  As I got older, I branched out into friendships with women, which I quickly realized were not nearly as carefree and easy going as my friendship had been with dear, sweet, uncomplicated Christian.  It didn't take me long to realize that "daddy issues" may possibly mean a whole lot more than being coerced into helping tear down a wall, or tiling a bathroom floor (my parents did a lot of remodeling okay?)  This trying time in my life led to the statistic that 80% of my friends are now male.
With further analization I actually discovered that I didn't have daddy issues in the same sense that most girls did.  My dad wasn't in the slammer, he was eating dinner with us every night.  He didn't lock himself in the den with a scowl on his face and refuse to play 'childish games.'  He didn't cut me down or give me a body image complex, in fact he was pretty fabulous.  One day, it finally occurred to me. I was suffering from the absence of daddy issues.
But honestly, I don't think there is enough attention given to the absence of daddy issues…  It can cause some pretty big problems when it comes to dating:
Me:  What are you talking about?!?  So what you're saying is, you don't know how to replace my transmission with your eyes closed?
….You can't build a doghouse out of an orange peel?
….Are you telling me that you have never built a gazebo from a scratch using only a pocketknife?
….You mean, you can't explain to me for the fifteenth time how the electoral college works? This just isn't going to work.
And so my life would continue, forever in shocking disappointment. All thanks to my dad.