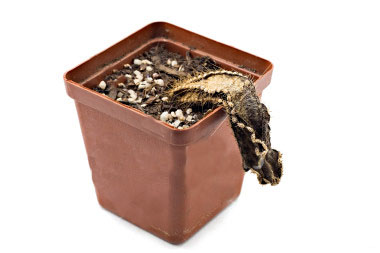 Hold on to your clip on ties. I want you to pop a squat and take a moment to regret all the stupid decisions that you've made today.  And since you're probably gonna break a sweat, I'm gonna cool you off with a tropical breeze of insightful knowledge.
My mom gave me a vacuum and a cactus as a housewarming present.  Half of this gift confused me.  The vacuum was a given, considering, along with mowing the grass, that is my mom's second favorite pastime.  We don't have sufficient time right now, or a licensed psychologist, to get into the mechanics of why exactly these are my mom's favorite pastimes. But a cactus?
Mom: "You need to have some other living thing to keep you company.  And this is the only thing that's impossible to kill."
Fair enough.  But as of last night, I can say with all the conviction of an OJ Simpson trial, that my mother has been officially wrong about something in her life.  That cactus is a goner.  And as I was dumping it out into my garbage can, I thought, "What kind of person can't keep a cactus alive?" The answer, unmistakably blaring in my eardrums like a bad ACDC cover band, was:  the kind of person that probably shouldn't procreate.
Maybe I subconsciously killed it cus I hate all things Southwestery. I don't know.  That being said, there's not a solitary day that goes by when I don't break out into a musical-esque song and dance like something out of the Sound of Music or a freecreditreport.com commercial, rejoicing over the fact that I'm not married yet, nor do I have any illegitimate children.  This is not merely due to my phobia surrounding all things associated with commitment, but also due to the fact that if I'd of married any of my previous boyfriends – I'd be taking a sightseeing trip to the Brooklyn Bridge very soon.  So I could effectively end my life by jumping into that ice-cold, watery abyss.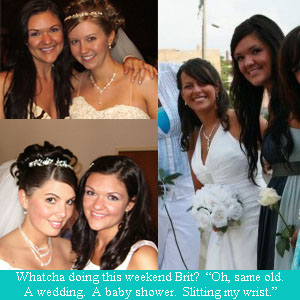 I find, however, that the rest of the world doesn't participate in my joy.  Considering the bulk of my time is divided equally between:  being in weddings, attending baby showers, and trying not to eat the entire box of ice cream right before bed – I'm around alot of "committed people."  Here's a quick sound bite from last weekend's baby shower:
Friend's Granny:  My, I haven't seen you in ages.  Let me see that hand.  Wait…. WHAT?!
Me:  Hey, good to see you too.  How's the assisted living complex?
Friend's Granny:  You're NOT MARRIED?!
Me:  Nope.  Not yet.  Wow, you look exactly the same.  …So, what's been going on with you?
Friend's Granny:  Wait, I thought your boyfriend proposed to you in Paris?
Me:   Well, turns out he was bipolar, who knew.  And too Italian. And his breath was funky at random times.
Friend's Granny:   Well, I thought I heard you were going steady with some boy you met in London, what happened to him?
Me:   Yea.  Yea, I was.  Heroin addict.   Oops. ….So, do you still play Bingo every Thursday?
Friend's Granny:  But what ever happened to that first boy you were with?  He was so …
Me:  Um…  He was a "musician."  So, you know, he needed to follow his music.
Friend's Granny:  Well, are you at least dating someone?!?
Me:  Yes, he's very nice.
Friend's Granny: He's nice? Well, then why haven't you snatched him up yet? You better get him before someone else does!!
Me:   Um.  What? I'm not quite ready.
Friend's Granny:   You're running out of TIME!
Me:  Time? Like, as in my lifespan?   Didn't you just turn 92?
Friend's Granny:  Can you at least do me one small favor?
Me:  Sure. What's that?
Friend's Granny:  The next time I see you, can you at the very least have a baby?
Other articles you  might enjoy:
How To Talk Yourself Out Of Dating Almost Anyone
Teenage Acne and an Italian Boyfriend