Dear Matthew McConaughey,
Can you make a different movie already?  Wait.  What was that?  OH, you can't.  It's physically impossible?  Okay.  So I can just expect the same movie with the same plot and same actress, where you discover you were some sort of "bet," and then you get fake mad, and then storm out, only to read an article that the girl wrote in her column about you saying that she really was in love, so you chase her down via boat or scooter at the end of the movie, in a outdoorsy scene set to a cheesy made-only-for-a-girly-movie song?
Well that just hurts my heart,
Blunt.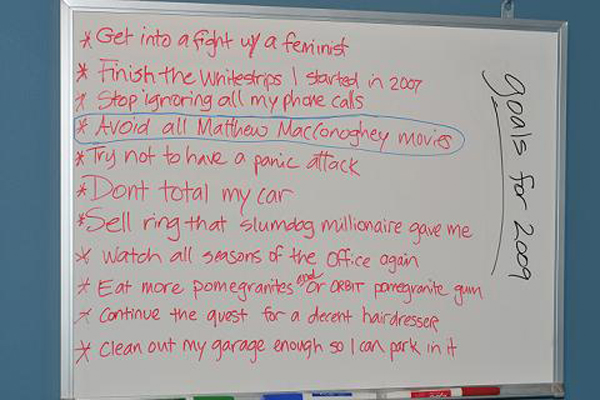 As you can see so aptly demonstrated in this picture, I have set lofty expectations for myself in 2009.  Obama isn't the only one ushering in "CHANGE,"  kids.
One thing I've left off the list is working out.  I always thought there was no need to work out unless I was borderline obese.  Well, after sitting at home and being subjected daytime talkshows for the past 4 months, I've realized there might be reasons other than just the threat of morbid obesity why I shouldn't sit in my chair for 12 hours straight everyday, eating assorted leftover holiday candy.  But is that gonna stop me?  The fact that you even ask that question makes me realize that we aren't as tight as I thought.
So check it.  One of the few only downfalls of working for yourself, is that you have to shovel out money for health insurance.  And you better believe, I'm not doing that.  Nonetheless, my father feels otherwise. 
Dad: You've got to get insurance.  What if you have a big accident?
Me: I sit in my office 24/7 and I never leave the house.  What's gonna happen?
Dad:  Diabetes from your sedentary lifestyle?
Me:  Okay. Fine… I'll look into it.
Well, my dad knew there about as much of a chance that Angelina Jolie would stop adopting exotic children than there would be of me actually following through with that statement.  So about a week later, I get a text from my friend/insurance agent saying that my dad picked out a policy for me and I need to come sign it.  Oh. Seriously?
A couple weeks later, I begrudgingly go to sign the papers.  As I'm sitting there shooting the breeze and answering questions about my gastrointestinal family history, I notice a fax cover sheet on top of my file.  From my father.  And it reads:
To: Justin   From:  Denny
Subject:  Please call me if my daughter "forgets" to come in and sign the paperwork.
For a split second, I had to recover from the whiplash I experienced from my dad throwing me under the bus, until I realized that my dad was absolutely correct in assuming that I'd probably blow this off and then tell him I forgot.  Then, just when I thought I was in the clear – I got a call from the insurance company:
Insurance:  Hello, this is the insurance company, we're trying to process your request for a policy.  Can you clarify some things?
Me:  Sure.
Insurance:  So, your records show you were admitted to the ER in 2006.  Can you explain that?
Me:  [honestly, not even remembering that happened….]  Um, I really don't remember.
Insurance:  It says something about shortness of breath and hyperventilation?
Me:  Oh… oh.  Yea.  Anxiety attack.  Forgot about that, sorry.  Crazy boyfriend, don't ask. 
Insurance:  Ok. Well has the problem been resolved?
Me:  Well, he's across the ocean now, if that's what you mean. 
Insurance:  Okaaaaay.  What about the x-rays you had on your leg in 2007?
Me:  Oh… yea.  Forgot about that, sorry.  My hip pops out of joint at random times and I can't walk.  Hurts like a beotch.
Insurance:  Pops out of joint?
Me:  Yes.  They told me I need to exercise to strengthen the ligaments.
Insurance:  So has your exercising resolved the problem?
Me:  [I don't recall saying that I actually took the advice?]  Uh, suure.  Why yes, it has.
Insurance:  Good.  And lastly, why did you go to an ear specialist?
Me:  Good question.  He didn't fix crap.