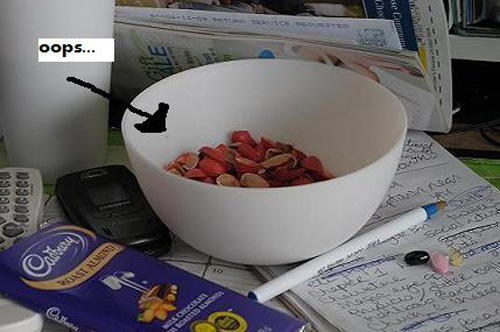 This is a snapshot of my life on any given day.  …Piles of unopened mail.  …30 different notepads with in-decipherable scribbles of random thoughts that I've written down when I was supposed to be hanging out with someone.  After Easter, the Cadbury chocolate bar could be easily substituted for Reeses or anything but Milk Duds.  …Vitamins I'll stare at all day with every good intention, but won't ever get up to refill my water so I can actually take them.
So the other night, my stomach started hurting really, REALLY bad.  I was perplexed.  I stared over at the pile of randomness on my desk, searching for clues, when it hit me. I just polished off an entire bowl of pistachios.  Wait… wasn't there a national recall on pistachios last week because they were infected with Salmonella?  Crap.
It's not my fault.  My mom calls me every night and runs down a new list of things I should be paranoid of. Example of our weekly conversations:
MONDAY NIGHT
Mom: Don't go to Target.
Me: Like,  ever?
Mom: Well, some girl got her purse stolen last night.  I guess there are these guys that hang around the parking lot and they ask if they can borrow your phone or something then they rob you.
Me: You think I would fall for that? Do you forget that I lived in London all by myself?
Mom:  I'm just saying.  It's not safe these days for a girl to go out on her own after dark.  I'd just prefer if you were with someone. Will you just tell me you'll always be with someone?
Me:  Of course. My friends are always available when I need to pick up Q-tips and some cereal on a Friday night.
Mom:  Mmm, cereal. That sounds good. I think I'm gonna have a bowl.
TUESDAY NIGHT
Mom:  Hey what are you doing?
Me: I'm running errands.
Mom: You aren't at Walmart are you?   If you are, leave.
Me:  Wait, what?
Mom:  Did you hear about what's happening at WALMART?!?
Me:  Sigh.  No… but I'm not too worried cus you're probably gonna tell me.
Mom:  Well, there's gonna be some gang initiation and they are supposed to shoot three girls.  So I wouldn't go there for at least a couple weeks.  Oh, and avoid pistachios cus they're all infected with Salmonella. Oh, did you see American Idol tonight? That Adam Lambert is my favorite, do you think he's gay?
WEDNESDAY NIGHT
Mom:  What are you doing?
Me: Writing.
Mom:  I figured.  ….Well, you know, you just couldn't pay me to fly anywhere these days.  Did you see that 20/20 where the spies got onto the planes with knives and tear gas?
Me:  But mom, you haven't flown since 1969 cus you're terrified of it.  It has nothing to do with Terrorism, you're just trying to get the point across that I shouldn't fly.
Mom: NO I'M NOT.  But I wouldn't advise it.  So whatcha writing about?
So somewhere in the shuffle of more pressing concerns, the pistachio crisis was forgotten.   That combined with the fact that they are just so so delicious.
 I didn't stand a chance.