You'll have to excuse me, but this summer has been a freak show of chaos and if it weren't for the expiration date on my mozzarella, I would have had no clue that we were approaching the 10 year anniversary of September 11, 2001. I know lately I've put on my introspective alter ego and you're all, "What the crap – where am I?"  Well, I've got bad news. It's not gettin any better today. Because how crass would it be of me to write about my newest Facebook stalker or my dad's latest embarrassment story on the upcoming anniversary of such a horrendous day?
Pretty crass. And even I'm not that crass.
So I got to thinking about 9/11/01 and where I was. Not just physically, but in my life. It was my first year of college and I was curling my hair in my box of a bedroom (and most likely accidentally burning my forehead) while my mom was making pancakes. Sidenote: my mom's pancakes might be one reason why I'll never leave the Midwest. At that time, just one tower had been hit and I headed off to my college class… something about morals and ethical gray areas. Class was cancelled but we all sat there glued to the TV, completely awestruck. As I got in my car to go home and a Lifehouse song came on the radio, I found myself looking around me, as if something was going to blow up in front of my face. It was a weird feeling.
As for the rest of my life, it was all very blank. I was dating one of the best men I've ever met to this day, and yet, I would soon discover that timing really is everything. I had yet to experience that nauseating feeling in your stomach when someone tells you that they just don't want you anymore. Or even worse, when they do something that proves they don't.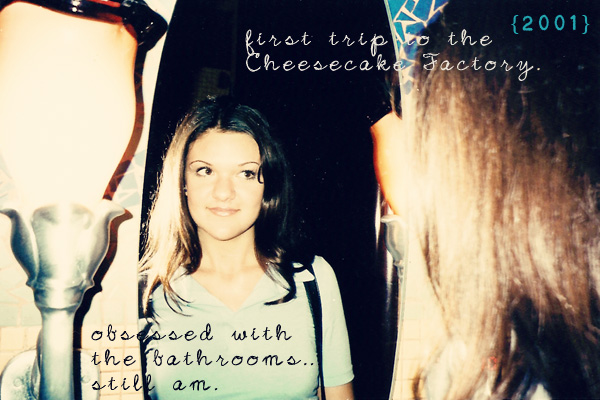 My eyebrows were tragic. But not as tragic as my dark lipstick. Or my Orange County tan. I had yet to experience a good kiss. The kind that makes you forget where you are.
I had plans of settling down at 24, kids by 27 and hanging around the house with a husband who made me laugh. Assuming, of course, I would have the same friends by then and we would all have dinner parties together and our kids would grow up to be besties. I've never been so entirely wrong about anything in my life, aside from those eyebrows. And using the term "bestie."
I hadn't seen first hand how drugs could destroy someone, or, how watching it happen could destroy me. I had never boarded a plane, much less flown to Europe to live. I was fearful of almost everything, yet slightly more optimistic than I am today.
I loved my parents just as much as I do now. That kind of love does not diminish with time.
I had yet to discover what it was I would do with my life. And even three years from then, when I was supposed to have it all figured out, I still wouldn't. I didn't understand the mental toll of working 40 hours a week at a job that made me want to breathe in the exhaust from my sweet action Saturn and how it would change my life when I lost it unexpectedly. I never thought in a million years that I would actually be paid for writing down the words that had been up to that point a nuisance, merely adding to my Insomnia. And I had never heard of Radiohead. Or boxed wine.
Six months prior, everyone in my graduating class had picked me as the first to get married. They should have known better than to make bets on me.
I had never lived anywhere but my parents house and was screaming for independence. Little did I know, as soon as I got a taste it would intoxicate me, so much so that it would cause me to run away from anything that threatened it.
Ten years. Wow. Maybe I'd go back.
Maybe I wouldn't.
I don't suppose it matters though, now does it?
So tell me, where were you ten years ago?
I have returned to blogging over at Celery and the City where I write about clean eating, healthy living and post allergy and gluten free recipes!