"Indian people seem rather unemotional in my experience… Then again, my experience was with your ex-boyfriend who snorted $300 of heroin a day. So that could be a bit of a generalization."
-my Dad.
I am currently watching a Millionaire Matchmaker marathon. I love this show, but not because I love it. Patty Stanger has nothing on me in the relationship knowledge department – and certainly not in the hair department. Right? I'm loving this show because I discovered I still have cable even though I cancelled it in December. Take that, universe.
It has come to my special attention that I not only suck at blogging and mysteriously have bootlegged cable, but that ALL of my readers hate women. Especially the women. I like to think that we would all be cyber friends even if we weren't united by this sentiment of hatred, but I can't say for sure. Here's to hoping on rainbows and leprechauns.
MIND WARP POP QUIZ: Please raise your hand if you've ever found yourself trapped into one of the following questions –
1. Are there any cute girls where you work?
2. Does this make me look big?
3. Do you like my new haircut?
While you're pondering that, I recently had drinks with a woman that I don't hate- V from Uncorked. And maybe a pizza. And a tuna wrap something or other. Have I mentioned how smitten I am by this kitten? She's everything she's cracked up to be (except for that time she blew me off for her couch and a couple of Pugs) and if you don't read her blog then don't come crying to me when your life ends up in shambles.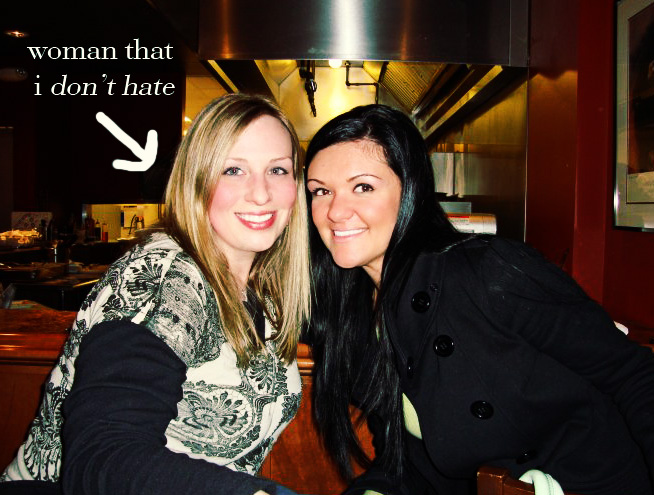 NEWSFLASH: when it comes to women, there's no winning. In my experience, if I try to befriend them and put my best self-deprocating, non-threatening-hoodie-wearing foot forward, I will inevitably suffer the consequences of their certifiably nutty minds snapping at some point. Don't be fooled- this process can sometimes take years. However, if I gravitate toward male friendships, then I'm a boyfriend-stealing hoe with daddy issues who is starved for attention. Some might think of this predicament as a lose/lose, but I just think it's great Sunday night entertainment. What else are you gonna do, watch golf?
Strap in, because I'm about to blindside you with the point of this post. Except I don't think I can legally call it a blindside if I warned you first. Since I'm not a heartless bastard who hates things without concrete reasons, I will now dispense reason 7 of 8,964 of why I hate women: Mind Warp Trivia. Let's look at question #1 and it's possible answers. You might think you know the correct one, but I can assure you that you are sorely mistaken.
1. Are there any cute girls at your work?
a.  No sweetie, not at all.
b. I haven't really noticed to tell you the truth.
c. Eh, there's a few that are alright. Certainly not on your level, but they are okay.
d. I'm not even going to dignify that with a response.
Unfortunately none of these are correct. Regardless of what you choose, the answer won't be satisfactory because it is a trick question. If you choose (a) she won't believe you; if you choose (b) she will accuse you of lying; if you choose (c) she will be pissed that you are looking at other girls; and if you choose (d) she will say that's bullshit. This is a mind warp trap with the only way out being a fight. Even simply breathing will cause a fight when presented with such a question. With that being said… Good luck!
Why I Hate Women: Part 6 of 7,893
Why I Hate Women: Oh Let Me Count The Ways