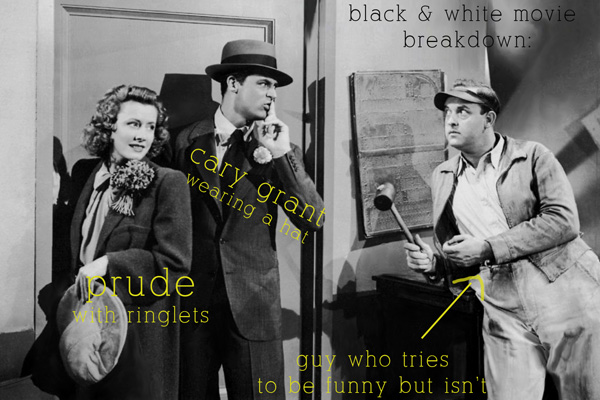 As usual, I couldn't sleep. I ended up watching a classic movie called Penny Serenade.  You know, black & white. Cary Grant. Some prude who never takes off her apron and always buttons her shirt to the top.
I have two words for this movie: lame.
I realize that classic movies are supposed to be the height of Hollywood glamor and awesomeness, but man, they suck. Hardcore. Total snoozefest. I'd rather watch a Matthew McConaughey chick flick. But you know what? I think I'll keep it on my shelf so people can still think of me as one of those people who appreciates old movies.  As a matter of fact, I'll set it right next to my antique copy of War & Peace that I'm not even going to pretend that I've ever cracked open, which looks great right next to my vintage camera that I've never used.
This conversation naturally makes me think of other things that I dislike: women.
When I think back on it, women really haven't changed all that much since elementary school, when I'd come home and burst out into the ugly cry over something a mean girl did.  I was hoping that when I got past college, they would stabilize.  Nope.  Still crazy. Although the reasons behind the craziness may have changed with time, they are still, very much, crazy.  Hating other women for no good reason. Asking their boyfriends the world's most stupid questions. Flipping out on poor unsuspecting men.  Bursting with ravenous jealousy. I can't even count how many women I've been told that hate me, that have never actually talked to me.
Let's look at a few demonstrations of female behavior over the past twenty years of my life.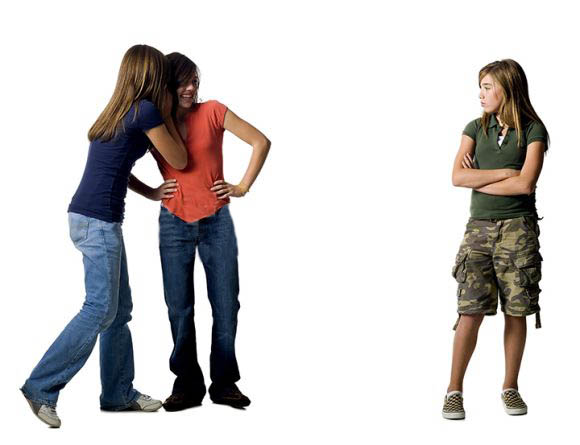 [4th GRADE: the betrayals begin]
Me:  Hey Annie, wanna come over tonight and we can organize our sticker collections? [Yes, we really had them]
Annie:  Um, actually, I'm going to Becky's house after school.  Oh, I don't think I told you that we had a talk and she wants to be "secret best friends" with JUST me.  Isn't that mean?
Me: Psssh!  YEA!  I thought we were all best friends?
Annie:  Yea, but she wants to leave you out.
Me:  Well you told her that was a stupid, crappy idea, right?
Annie:  Well, actually…um…. we ARE secret best friends now. Just her and I.

Me:  UM, so I see that our three-way best friend NECKLACES mean nothing to you! Huh? You lying, backstabbing, dirty little tramp!
[10th GRADE: the unwarranted hatred and jealousy begin]
Friend:  [leaning in so close to me that I'm forced inside my locker] Amber doesn't like you!
Me: What? Wait. Who the heck is Amber?
Friend:  The girl who hangs out with Margie.
Me:   I don't even know her.
Friend:  But she's totally spreading rumors about you!
Me:  What?  Rumors? But why?
Friend: Well, she likes Andy.  But Andy likes you.
Me:  Ok. But how can I help THAT?  Besides, I wouldn't date Andy in a million bagillion years.
Friend:  Well. She's pissed. And she's telling everyone you're a spoiled beotch!
Me: Spoiled? That isn't even kinda true. I work at Chuck E. Cheese and drive a 1964 Dodge?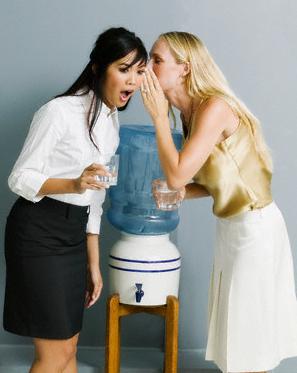 [25 YEARS OLD: the false rumors and accusations begin]
Me:  You know who I really like?  Sandy.  She's so nice.
Co-worker:  OH, that's weird. Cus Sandy is not a fan of you.
Me:  Not a fan?
Co-worker:  I overheard her talking to someone, but I can't say who.  Anyway, she said that the boss favors you cus you got Employee of the Month again.
Me:   But I out-performed everyone in the department?  They would be breaking their own rules by not giving it to me.
Co-worker:   Well I don't know.  That's just what I overheard.
Me: What am I supposed to do?  Suck at everything so Sandy will like me?
Co-worker:  I'd try to stay on her good side if I were you.  She's telling everyone that you're cheating on your boyfriend.
Me:  WTF?  I don't even have a boyfriend.
As we can see, there is no rhyme, reason or logic going on here. And I'm not saying I hate all women. Just the ones who are ridiculous.
I have some fabulous lady friends.

OTHER PARTS TO THIS SERIES:
Why I Hate Women Part 7 of 8,964: Mind Warp Trivia
Why I Hate Women: Part 6 of 7,893
Dear Haters, Why Do You Love Me So Much?