Let me start by saying that I currently drive a plum-colored '99 Saturn with duct tape on the hood.  The purpose of the duct tape is to cover an actual hole in my hood that was created when I veered into the shoulder and crashed into a road sign, which fell on my car and poked a hole straight through it. 
So heed my advice at your own discretion.
So back to this whole matter of me being in a beauty pageant.  Typing that very sentence makes my skin crawl, but you brought it up.  Let me first say, that I hate pageants and all the creepy girls and moms associated with them.  Okay.
Once upon a time, I was dating a charming young Italian gentleman, who I thought at the time was my long awaited knight in shining armor. Ok.  Let's start over.  Once upon a time, before developing my completely pessimistic realistic views on the ways of the world and men, I happened to get the wool pulled over my eyes by an Italian crazypants in preppy clothing who sang in a band.
As most young women who pay their way through private college, I was broke beyond my wildest dreams.  The Italian came to the ridiculous conclusion that I should be in a pageant.  My immediate protest was stifled by the mention of  "but you can win alot of money."    I have a habit of doing things spur of the moment, without much thought or consideration to what said thing will entail, so about a month before the pageant I said, "fine. what do I have to do?"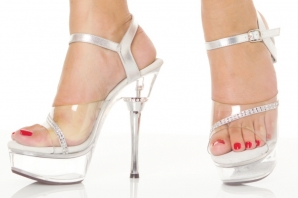 After having said yes, I recanted my admission; but I was further coerced that it would be no big deal to prepare for.  Lies…   So big even Satan was shocked.   In one month I had to:  find a pageant gown, 4 inch clear heels [what am I a stripper?], figure out a "talent" [except I can't sing, dance, or do anything requiring hand-eye coordination], get a professional picture, learn how to walk in 4 inch clear heels [again. the coordination problem], learn the group dance routine [there's a WHAT?],  get a swimsuit that I'd be comfortable wearing in front of thousands of people, freak out, and actually stop eating enough food for a small lacrosse team so that I could not embarrass myself while wearing the swimsuit.  
If my first problem is that I make impulsive decisions, my second problem is backing out of them.  I can't do it.   So after one month of freaking out, chewing the Italian a new one, and eating nothing but apples – I competed in the pageant.
My talent?  A comedic monologue about my teenage acne.  Yes.  And you are correct if you are thinking that you've never seen anyone do a comedic monologue at a pageant before.  I don't believe anyone ever has.  Probably because they can sing and dance like all the other pageant going freaks.  Did they love it?   Does Giraldo Rivera love his mustache?
Swimsuit competition?  You know I rocked that.