So Kenny, my metrosexual best friend and I are doing some errands around town, when my mom calls:
Mom:  I have a pretty serious problem.
Me: What's wrong?!?
Mom:  I can't watch any of my shows.   And Dancing With The Stars is premiering tonight and I can't watch that either!
Me:  Why? Do you want me to tape it?
Mom:  Well your dad said we need some kind of box to watch local channels now.  They're all fuzzy.  Except I remind him to get one everyday, but he forgets to get one everyday.
Me:  A digital converter box?
Mom:  Is that the thing that will make the channels clear?
Me:  Yes.  Well, I could pick one up for you – I'm just running some errands.
Mom:  Well can you get it tonight?  I've already missed two weeks.
So Kenny and I go to Best Buy. Normally, my independent side refuses to ask for any kind of help from an associate.  I don't know why, but we certainly don't have time to diagnose that tonight.  I was in a HUGE rush, so as soon as we enter the door, I cringe a little and ask the security guy where the digital converter boxes are.  He says, "See the Home Theater sign?  Right under that."  Sweet.  That doesn't sound complicated.
Kenny and I reach the Home Theater section and wander up and down a few aisles.  Neither of us see anything resembling what we're looking for.  We loiter around for a bit and I make eye contact with two associates, but they were helping other people.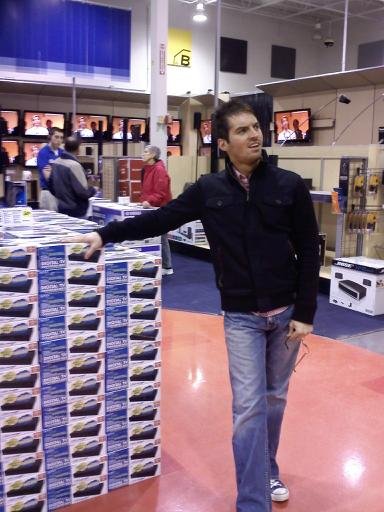 Me:  Well, they HAVE to be here!  Do you see anything?
Kenny:  Really?  Look who you're talking to.  Just ask someone or we'll be here all day.
So a guy walks by and says he'll be with me in a minute, but the minute never came.  Eventually, I can't wait any longer so I told Kenny to wait where he was and I'd get some help.
Me:  Sir, I'm sorry.  I'm in a huge rush.  I just really need to find the digital converter boxes. I was told they're in this section but I can't find anything.
Best Buy Guy:  Oh, sure.  [he comes over to me and points] See right where that guys is?
Me: Yea.
Best Buy Guy:  He's leaning right on em.  There's a stack about 8'x4′.
And there it was.  The most gigantic pile of digital converter boxes that there ever was. And there was Kenny, just leaning on them with a confused look on his face.  Obviously, I had to snap a picture so I could make a public mockery of the moment.
For more of the Kenny Chronicles:
How to Talk Yourself Out of Dating Almost Anyone
A Metrosexual in a Yankees hat
A Bad Gordita and Some Classy Water