Holy crapballs.

There's something we've got to talk about before we take this relationship any further. No, I'm not going to talk aboutthe six consecutive years I avoided the dentist, or how I almost married a British heroin addict, or how I almost married a bipolar psychopath, or how I will search for as long as it absolutely takes to find a close parking spot because I'm grossly out of shape and have no desire to remedy that situation, or how I will inevitably listen to the same song for two straight weeks which then ruins it for the rest of eternity, or how I can't seem to buy toilet paper until I literally run out while on the toilet.
We're not talking about any of that. Sorry to tempt you.

What we ARE talking about is how the crap I ended up being 27.  And how no one even had the decency to fire a warning shot.
Oh, I forgot I wasn't going to reveal any personal details on this website. My bust. V over at Uncorked, just wrote a post about how she's got her 10 year reunion coming up and it got me to thinking about mine. Oh dear, what will they all say of my singleness, my random smattering of job choices, the fact that I quit college cus it was B.S., and how I don't have ANY CHILDREN to blame my butch haircut on?!? If I had one, that is. Which I never will cus someone has to keep living the dream. And that someone is me.
Please pay close attention to the picture below. Study it with reckless abandon.
Sorry, that wasn't really an appropriate usage of that phrase, but I have been trying to incorporate it into as much of my written and spoken word as possible this month. Some of us like to achieve the goals we've set out, you know?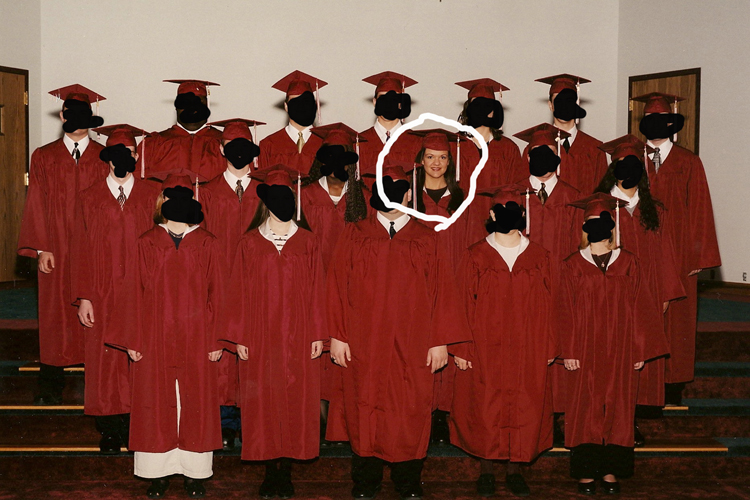 Did you pay close attention?
Well if you did then you might notice there are only 18 people there. Did the plague sweep through my high school? Were we the original group to encounter the Swine Flu? Was it Senior skip day?
Not necessarily. That might have been everyone.
And I'm very proud to say I was in the top 5% of my class, academically. Although having only like 10 male dating prospects truly sucked, I won't ever have to endure the torture that is a class reunion. Cus really? Like any one of us would go to that. And like any one of us would take it upon ourselves to plan that. So BOO-YA. I bet all of you are wishing right now that you went to an overly strict, fundamental Baptist school which didn't allow you to attend movies, wear pants, have unnatural colored highlights, more than two piercings per ear lobe, sleeveless shirts, open-toe shoes, or sit next to the opposite gender- but did accuse you of being in a gang.
We can't all have perfect lives.