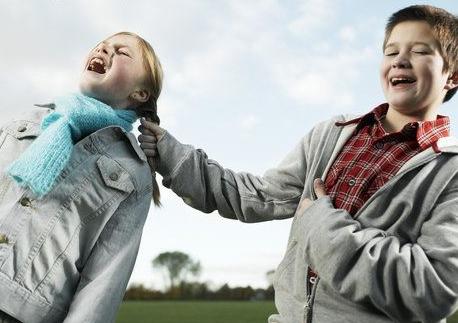 So I had a crush.  A big one.  I remember, it was third grade… and it was bad.
To keep things easy and confidential we'll call him Norm.  Not to imply, by any means, that this young lad was normal… because he was not. This is also not to imply that he was anything special… because he was not.  Norm was just, Norm.  And I liked him.
One crisp, autumn afternoon, during a cut throat game of tag, Norm snuck up behind me and pulled my hair.  Actually, Norm is a horrible name.  Let's call him Johnny.  So Johnny pulled my hair. Of course, my auto-retaliation response to such an attack was to thrust him face-first into a spinning merry-go-round.  Years later, I would realize that in third grade, when a boy throws a grasshopper at you or pulls your hair, they are not a threat to your very safety. They might just want to take you on a date to the sandbox.
My apologies, Norm.
Needless to say, this incident was a dual-sided foreshadowing.  It was a glimpse, if you will, of the plethora of not-so-normal chaps that I would find myself becoming unexplainably attracted to in the future.  Also, it would be the first in a very lengthy succession of realizations of this kind.  When I say "of this kind" I mean, precisely, those of the opposite sex.
Me:  Johnny hates me, I can just tell.  UGH, I like him so muuuuuuuuuuch.
Friend:  Why do you think he hates you?
Me: He pulled my hair and threw dirt at me.
Friend:  So, he pulled your hair AND threw dirt?  Well, he likes you then.
Me: Huh?  What kind of shoddy way of flirting is that?
Friend: I know for a fact that he does, cus he told Sammy he liked you.  So now you have to tell him you like him.  Or better yet, write him a note.
Me: Mmm.  I don't know.  Sounds kind of risky.  I mean, I still think you're waaaay off on this whole flirting thing.
Friend:  Trust me.
Me: Well, what if I go to tell him and then I chicken out?  Or my lips go numb? Or I lose the ability to speak?  Or I suddenly have a seizure? Or if I write the note, what if I go to hand it to him and the teacher intercepts it?  Or what if he gets it and doesn't like me? Or what if he shows it to all the other boys and I become the laughing stock of the world?  Or what if …
And right there, a lifetime of over-analyzation began.
I guess I've been as confused by men over the years as they have been by me.  And let me tell you, I'm pretty confusing.  I make absolutely zero sense. I might go as far as to say that I make negative sense. If you've read this blog for more than one day, you need no further explanation on that point.   The problem with women is not finding what we want, the issue is knowing what we want in the first place.  And as soon as we think we know… DING, DING, DING…try again you poor ignorant soul!
OTHER POSTS YOU'RE GONNA LUUURVE:
Why I Hate Women: Oh Let Me Count The Ways
So You're Telling Me That You're Not MARRIED?!