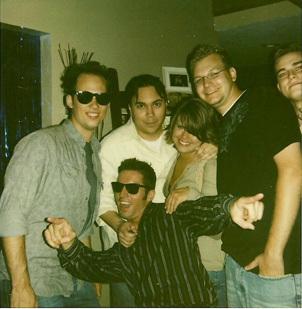 STOP THE PRESSES! If you keep reading, you will be lost and wandering through the woods like Bambi after he got ravaged by a wolf.  This is part II of a series, first you must read the Kenny Chronicles: Risky Doesn't Begin To Describe This Business. No really, get out of here.
This is quite long, it really should have been 3 parts… but who has patience for that?  Okay, where were we? Oh yes. Circa 2006. I was going to house sit for Slumdog Millionaire [heroin addict ex-boyfriend] while he was in London "sorting himself out." So being the responsible house sitter, I was in full party planning mode with Kenny [metrosexual BFF] for our Top Secret Risky Business-themed-birthday bash, scheduled for the weekend after Slumdog departed. My old London roommate was flying out from the Big Apple. The DJ was booked. Ray Bans and five thousand glow in the dark beads were ordered. Approximately 300 invitations were accidentally sent out.
Brief history of "the house" in question: I don't think you understand. This house was in the NICEST neighborhood in my entire city. Quiet little families. Doctors and Lawyers. Maple trees, Unicorns, and rainbows EVERYWHERE. The only parties thrown in this neighborhood were, like, Mary Kay related.  This knowledge will come in handy later on.
And now, courtesy of the recent archaeological dig in my Myspace Museum, I present to you an exact replica of the invitation to the "Kenny & Brit Risky Business B-day Bash of 06."   [My observations have been made in pink]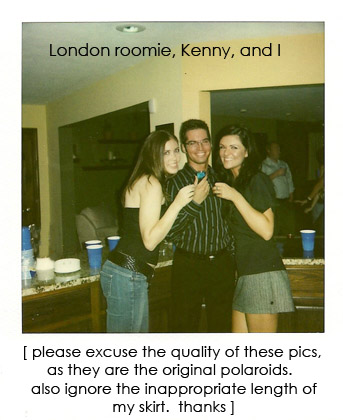 Dear those who like Tom Cruise and those who don't,
I'm about 99% sure one of these things is currently true: 1. Your panties are now officially in a bundle.  2. Your mom still cooks a mean casserole.  3. Making out is my favorite past-time. Wait, sorry! We're not talking about me.
Well, fear not, for the clouds have cleared and I can see the party of your life shining through – as if it were some golden ray of sunlight after a cold, dark & lonely winter void of human interaction and … wait, what?  So break out the Velcro shoulder pads, the stars are aligned and its the Age of Aquarius. [clearly, my schizophrenic writing style and tendency to digress have not matured over time]
THE OFFICIAL DAY THAT YOU'RE GONNA LOVE YOUR LIFE: FRIDAY, AUGUST 4th @ 9pm-?  We have condensed the guest list considerably [from what, 1000?] because this cannot get out of hand!! WARNING: Hey, Conan and the rest of you barbarians! You will be kicked out faster than Michael Jackson in a daycare if you do any of the following: [this was the second, ahem, slightly over-sized and out of control get together that we threw in Slumdog's house]
*smoke inside the house (cuz you did last time)
*punch holes thru the walls or rip off the thermostat (cuz you did last time)
*spill stuff all over the place like you've got cerebral palsy (cuz you did last time)
[INSERT CRISIS] Four days before the party, Slumdog informs me that he's not flying home.
Me:  Um. [ losing my last fricken' marble on the inside] I thought you were going to sort yourself out and get better?  Don't you want to get BETTER?  Don't you care about me?  And your mom.  What about your mom? You haven't seen your mom in like a year?!  What kind of son ARE YOU?
Needless to say, guilt trips don't work very well on people who are on drugs to escape reality and feelings -thus, he missed his flight. Kenny and I went into full fledged Mission Impossible crisis mode. I had to do something drastic.  I bought him a new ticket and if I had to sell my soul to make sure he went, I was ready.  But the only ticket I could get was for the day AFTER our party.
Me [to Slumdog]: So I've bought you a new ticket for this weekend. You leave on Sunday, but I've arranged for ___ to pick you up on Friday and you're going to stay in Chicago for the weekend and hang out on a yacht.   It'll be good for you.  Have fun.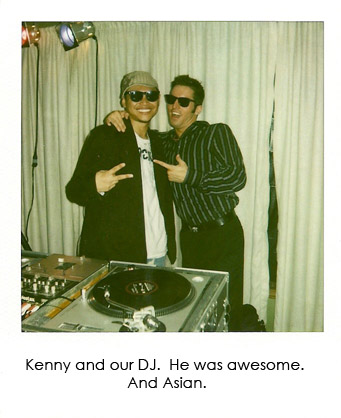 Night before the party I receive this email from Kenny:
From: Chad-a-licious
To: Neil, I still hate you.
Date: Aug 3, 2006 7:43 PM
Subject: Oh, by the way…

…let's see. Could I be anymore frickin' nervous??!!
[[exhale]] oh, boy… :S
and is that receptionist from the laser place still comin'???
Typical. When Slumdog arrived in Chicago, Kenny and I were an hour away moving all the furniture out of his house, taping black garbage bags to all the windows, installing ambient lighting, and sweating bullets.  It was a hot mess. And so were we cus I got a call from Slumdog every 5 minutes saying he wanted to come home.  [For a moment I'd like to flash back to my college days and have Miss Brooks switch that "B" to an "A" cus, wow, this was a persuasive speech the likes of which you've never seen.]
So the DJ was set up in the main living room.  Yea, the one with a big giant window that you'd usually drive by and see a Christmas tree in.   By about 10 pm, the entire neighborhood was lined with cars and people I'd never seen before were wandering through people's yards in pursuit of the party.  The back deck was filled with rowdy smokers.  This party was anything but down low.
By the third time the cops came, I mistakenly thought he said I would be arrested, and I burst out into tears.  Kenny, as usual, took over.
[standing in the front doorway]  Officer: Do you realize this is a neighborhood where people have children?
Kenny:  Yes, sir.  I know, we had no idea it was so loud.  [lies. lies from the depths of hell!] We will keep it down.
Officer:  I've been getting alot of complaints.  [peeking his head in at all the destruction] There wouldn't happen to be any minors here would there?
Kenny:  Officer. [putting his hand on his heart]  Officer, what do you take me for? I am 25 years old. Do you really think  a guy like me would allow something like that – in a neighborhood like this?  In a house like this? Sir, rest assured, I have dotted every "i" and crossed every "t."
And at that very moment, you could hear the sound of every Abercrombie & Fitch employee running out the back door and taking shelter in neighbors' various swing sets and tube slides.