Last night, I had a shocking revelation that I'm cursed.
This is even more serious than my nearly fatal, almost-heart-attack and 7 other legitimate, self-diagnosed diseases, except not really. Have I lost you already? Interesting. Maybe it's because you're cursed too. Although, I have fruit loops as my screen saver, so I would take my assessments with a grain of salt. But please, make it sea salt because the last thing I need to worry about is your skyrocketing blood pressure. And we all know that sea salt is God's salt.
If you're a creative person, then you get it. You could write this entire post for me. And actually, I wish you would because I'm really supposed to be working right now. If you're not, but you're dating one then this might help you understand us a little bit better. 'Cus I feel for you, I really do, because if I was a normal person wearing a polo shirt and clocking out at five from a stable job that provided benefits and paid vacation, I would be confused by us too.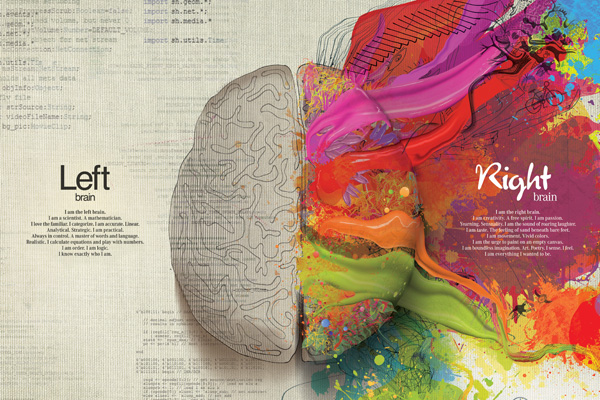 I love the fact that my right brain likes to run such a passionate and colorful show. But, my goodness, I just want to punch it sometimes. Then, I realize that I have a hole in my head and that would lead to my sudden death. Here's why we're cursed:
*Right-Brained Creatives are insatiable punks with undiagnosed ADHD.
This is, however, a necessary evil because without this trait we would fail. We can't ever stop creating, evolving, improving, changing – and it's not because we want to be the best  – it's because our minds literally won't let us stop. We are constantly flooded with ideas, to the point of insomnia. We're restless. And when we finally do go to bed at 3 am, we'll wake up and jot down ideas in the middle of the night. We have crazy schedules, our eyes are always bloodshot and we like it that way because you can't force creativity and you certainly can't stop when it's flowing. I literally have a notebook with tabbed dividers to keep track of ideas. This is an instance where I really wish I still had that Lisa Frank trapper keeper. The notebook goes a little something like this: blog ideas, website ideas, conversations I had/overheard, DIY ideas, house ideas, photo tips, video ideas, typography, inventions that no one will ever make, marketing ideas for companies (as if this will EVER be useful) and there's also an ongoing list of my Top Favorite 90s songs. Wouldn't that just make anyone go nuts?
When I finally ditched the corporate world and became a writer, it was the best decision of my life. But in order to make money, I had to write about stupid stuff like reality TV and the economy. So, I had to find another creative outlet, which ended up being this blog and photography. But I couldn't just leave it at that. Then I taught myself Photoshop and had to go and start an entire photography business. Recently, I've taken up furniture refinishing. Like I said, insatiable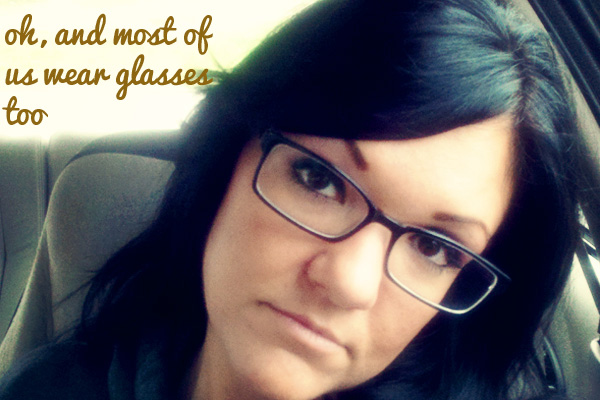 *Right-Brained Creatives thrive on risk. But not those kind of risks.
I won't even go to Great America for goodness sakes. We thrive on risk because we have to. A large majority of creatives are freelancers/self-employed -we never know where our next job will come from. This means that we usually marry a left-brainer because otherwise we'd be on the streets. We need to be challenged. We get inspired and run with it. For instance, I started an entire retail store in my local mall, on a whim, without any prior business or retail experience. Why? Because as  a child I always wanted to have my own store and when I lived in London I became inspired. Surprisingly, it was a very creative job because I controlled the entire design, store displays, marketing, etc. But, the retail world didn't allow much room for other creative pursuits. So, naturally, it had to go.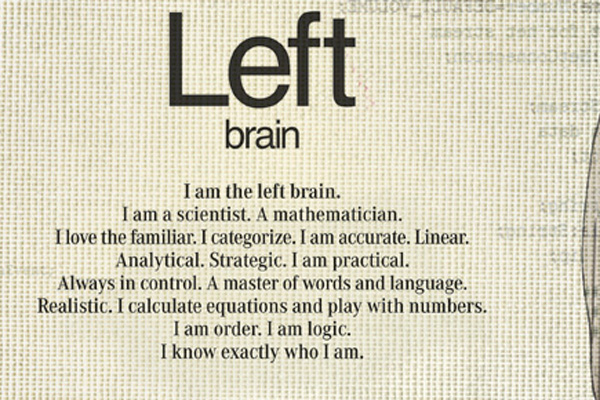 *Right-Brained Creatives are workaholics, who are almost always underpaid and okay with that.
Vacation, what? I would be willing to bet that every creative person reading this would agree that they would rather scrape by for the rest of their life and do what they love than make six figures working in a corporate office. It's sad, but we accept the fact that creative talent is extremely undervalued. Just as teachers accept that they will always be underpaid; but they keep doing it because it's their passion.
It's just how we're built. And when we try to box ourselves into that lifestyle, we lose a bit of ourselves. We become unhappy. We feel unfulfilled. We are merely existing rather than living.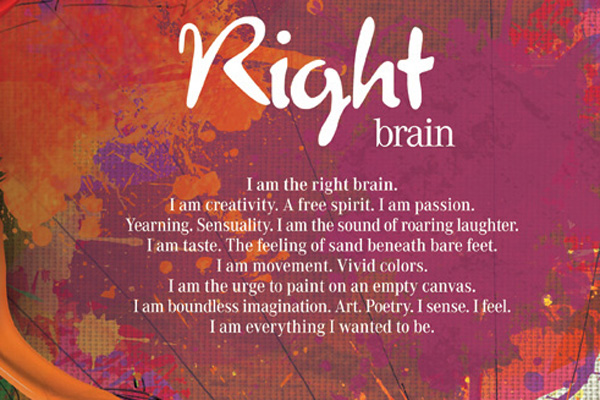 *Right Brained Creatives rotate hobbies like politicians rotate mistresses.
On top of our "main focus" whether it be graphic design, music, writing, photography – we have a million other hobbies. And we are constantly finding more. For instance, I'll see something I like online and think, "Yea, I could totally make that." Then, I'll realize I don't know how to sew, so I'll spend a hundred hours on YouTube watching tutorials on how to sew. And when I'm finished crafting my masterpiece, I'll contemplate opening up an Etsy shop for all of the new stuff I'm going to sew. For example, I picked up an extreme couponing habit at 2 am last week and the week before that I refinished my kitchen cabinets.
One thing I must say that has made my life worse/better is Pinterest. It's like a collection of online corkboards where you can pin any picture you see on the internet and it automatically links it back to that post or tutorial. You can browse other people's pins, follow your favorite boards and there is just an ENDLESS SUPPLY OF AWESOMENESS. This really has ruined my life and I don't suggest it.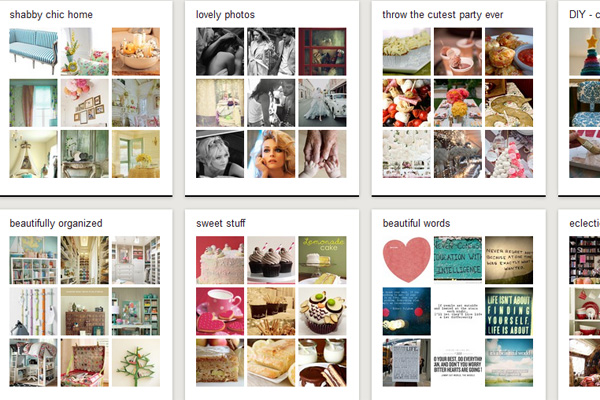 * Creatives are perfectionists who can't say no.
It's bad enough that we often work for next to nothing. But, we even have a hard time saying no to free projects. There are two reasons for this: 1. the project could gain good exposure for our work 2. we love what we do and if it's a really fun project, we want to do it. We are perfectionists to a fault because just as soon as we're close to finishing something, we've already thought of how we could improve it.
It's a vicious cycle. It's a busy, messy life. It's anything but boring. And I just wouldn't have it any other way.
Wondering where I went? I have returned to blogging over at my whole foods blog Celery and the City, where we live so clean it's like your insides took a bath.